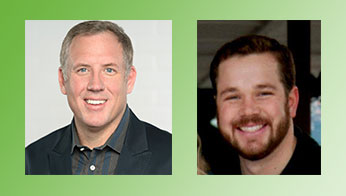 You
don't
want to miss the Connect Your Leads (CYL) team at LeadsCon New York ... and you probably won't because we're the guys wearing green jackets and green shoes and handing out money. No, we're not leprechauns, but we have been known to turn high-quality sales leads into pots of gold! Representing CYL at LeadsCon are Matt Gabrielson and Chris Hoffner, two experienced and straightforward professionals who offer profitable solutions for both lead buyers and sellers. They're available to discuss sales leads across multiple industries, including:
Cable & satellite TV
Internet
Home phone
Home security
Solar energy
Home insurance
Auto insurance
Life insurance
Wireless/cell phones
Gas & electric energy
Home automation
Personal loans
Mortgages
Auto loans
Debt management
Credit cards
Warranties
Whether you're looking to buy high-quality leads to boost your business or make top dollar for your leads, Matt and Chris should top of your list of people to meet at LeadsCon.
Discuss partnership opportunities AND win cash!
As if the prospect of establishing a long-term, profitable business relationship wasn't enough, we'll also be giving away up to $500 in cash during our time at the conference! Just stop by Booth 501 and drop off your business card, and we'll let you draw a poker chip with a cash value on it (everyone wins something!).
How to connect with us at LeadsCon
Here's how you can connect with the fine people during LeadsCon New York:
We look forward to seeing you at LeadsCon, but feel free to get in touch with us even if you're not attending!